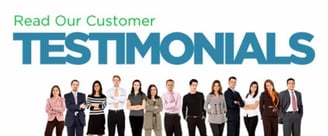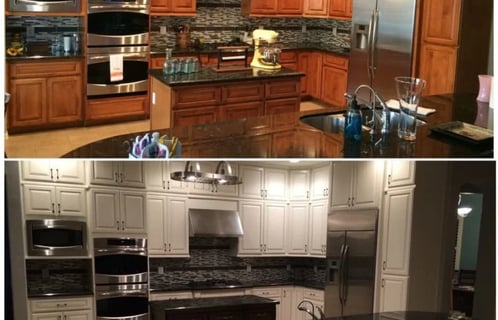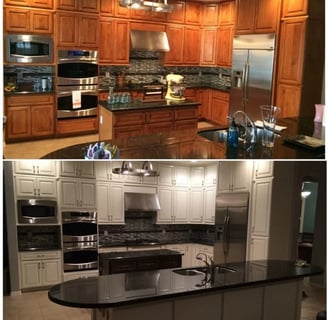 Testimonials and Reviews​
We have many happy customers. We are known for quality workmanship and quick service. Most of the time we only have re-finishers that tie up your house for only one day.
This is a major project in most cases and our customers appreciate the fact that we work quickly and finish on time. Read some comments here:
I am SO Happy with the work they did on my entertainment center. It is the perfect color to compliment my home. They were fast, clean, and professional. We are already in the process of booking them to do our kitchen. Very, very happy with their team.
_______
​
​
​
The guys are amazing!!! So glad they came highly recommended and their family business is run the way businesses should be.
We had a very large job and their price was very reasonable and getting a quote from them couldn't be easier.
They even created a custom color for us on the island – put in handles and impressed the most meticulous designer (my wife). Thanks Camelback , everyone was AWESOME!!!
​
More Reviews
I'm so glad I found Camelback Cabinets!! We bought a home with 90s golden oak cabinets and I wanted them updated. The crew came in Wednesday and took the doors, then came back Friday to spray the boxes and install the doors. They were done by 2pm and their crew was super friendly and did an excellent job. I also chose to have the 2nd bath done as well and they also sprayed the powder room for free since it was so close to the kitchen. It's a family run business and the take pride in their work. When I was shopping for granite they lent me a couple sample doors to help pick out the granite. Super friendly and easy to work with. I would recommend Camelback Cabinets to anyone.
_____
​
​
​
We recently moved into a new home and the cabinets needed some help. We're not ready to replace them, so we decided to have them refinished. We got an estimate from the first company and it was way out of our budget. I found Camelback Cabinets online and gave them a call. They gave me an estimate over the phone for the cabinets in the entire house and the price was great! I worked with Angelica who answered all my annoying questions via text and was such a pleasure to work with. She gave an option to update the hinges with hidden soft close, and replace all hardware of our choice. It was a 3-day process. Wed they came to pick up the doors and drawers. Fri they came back to paint the rest of the cabinets and install the doors and drawers The crew was so friendly and fun to be around. When they were finished, they yelled, "COME LOOK AT YOUR NEW KITCHEN!" It was so exciting. Our cabinets look awesome. I'm so glad we chose Camelback Cabinets and will recommend them to everyone.
______
​
​
​
I couldn't be happier with my experience with The Camelback Cabinets. I had many other people come to look at what could be done to change my cabinets from the deep grained oak to white. I was told it couldn't be done without still seeing the heavy grain and I really wanted something smoother. I was told I had to reface and that just refinishing with paint wouldn't work and it would be a very expensive job. I found Camelback Cabinets online and gave them a call. Angelica was very responsive, knowledgeable and informative. She put herself out by coming with samples a few times until I decided what I wanted and always answered my text messages immediately. The job was done quickly and at a much more reasonable rate than any other quote, plus they look great. Much better than I expected after all I had heard. The guys that did the work were friendly and fast. I would definitely recommend them.
______
​
​
​​
Camelback Cabinets refinished our kitchen cabinets today! They did a wonderful job! I called them after a horrible experience with a previous company! They did a wonderful job talking me through what my options were and explaining their process. Not only was the customer service amazing they were on time and got everything done in 1/2 the time and were extremely friendly while they worked. I highly recommend them we had a great experience and the quality of work is spot on!
______
​
​
​
We couldn't be more pleased with our experience with Camelback Cabinets! They were absolutely amazing! We are currently remodeling my parents' home and hired Camelback to refinish their kitchen cabinets. This home means a lot to us since it is our childhood home, so we wanted to make sure that we were going with the best – and Camelback Cabinets is just that! Firstly, the cabinets look wonderful! They were refinished to an antique white (painted and glazed) from an oak color. The paint job is uniform, the cabinets are smooth, and the glazing is exactly how I wanted it to be. When planning our project, we had the pleasure of working with Angelica. Not only was she extremely kind and timely in her responses, but she was knowledgeable and very caring. She paid attention to every detail and did her best to ensure that we were getting the cabinets that we wanted. She honestly went out of her way to provide us with paint colors and the look that we were going for. I am so appreciative of that! She is so great to work with and definitely adds to this company. Secondly, the crew that came out to paint our built-in cabinetry was amazing! They certainly knew what they were doing and the end product looks wonderful! They did a great job prepping the kitchen for the paint job and sanding process – everything is so clean! In addition to being true professionals, the install/paint crew was also very courteous, mannerly, and kind. To me, a person's work ethic and personality truly matter in addition to the job that they do – that's what makes me want to write a nice review, recommend them, and keep them in mind if doing any future projects. Lastly, the entire process was very quick. I believe it was in about 3-4 days that our cabinet doors were uninstalled, painted, and reinstalled. We couldn't be happier. Pricing-wise, The Camelback Cabinets is definitely the company to go with. What they charged is not only very reasonable, but also what we were expecting. Camelback is the company that you'd want to go with. Overall, they did an amazing job! We seriously could not be happier! The entire outlook of our kitchen has changed – my parents are happy and we are too! We couldn't ask for anything more. One other thing that I will add is that my father keeps talking about how impressed he is – which is a big deal coming from him; it's definitely not a compliment that he hands out readily after being in the power plant/construction business for 40+ years. So great job and thank you!